I've photographed a TON of tailgating before football games… at all levels. So much so that it's almost becoming a chore. Until I slap myself and say "come on, I'm outside shooting people having a good time." But this season, I made a rule. No photographs of people playing corn hole, beer pong or flip cup. Those games are extremely common around pre-game parties and they've become the easy way out when feature cruising around the stadium.
Didn't have to worry about making something different before last week's Florida versus Arkansas game. I was poking around facebook in the workroom at the stadium before heading out to shoot tailgating when I saw a post that said "A plane has crashed at Flavet field."  It's one of those you have to read two or three times before it clicks.
Uhhh… What? Surely they mean a remote control plane or something like that. (Don't call me surely) So we grabbed our gear and hustled the few blocks from the stadium down to Flavet Field. It's an open field in the middle of campus with a band shell and usually packed with tailgaters. (also home to Gainesville's fireworks show… see the photo photo of the American Flag) As we were running there, people were still tailgating like normal. A few even pointed us in the direction of the crash "Just around that pool." Or "On the other side of those tennis courts."  Kind of weird how calm and chill everybody was considering a plane had just crashed.
A small plane hauling a McDonald's sign around the stadium lost power, ditched the large banner and coasted down onto the field and crashed into a fence and a truck. Luckily, nobody was killed. The pilot and his passenger walked away from the wreckage with some injuries, but nothing compared to how bad it could have been. Witnesses said the plane landed in the field, bounced twice then hit the fence and truck. Some even compared it to the plane that landed in the Hudson river a few years ago. (on a much smaller scale of course)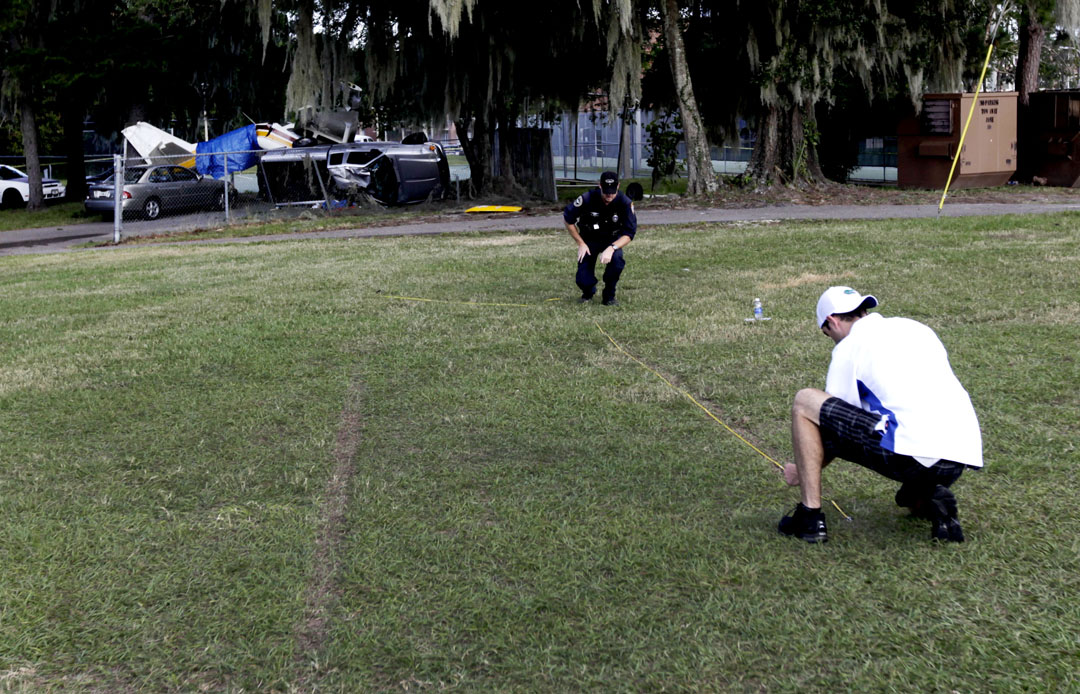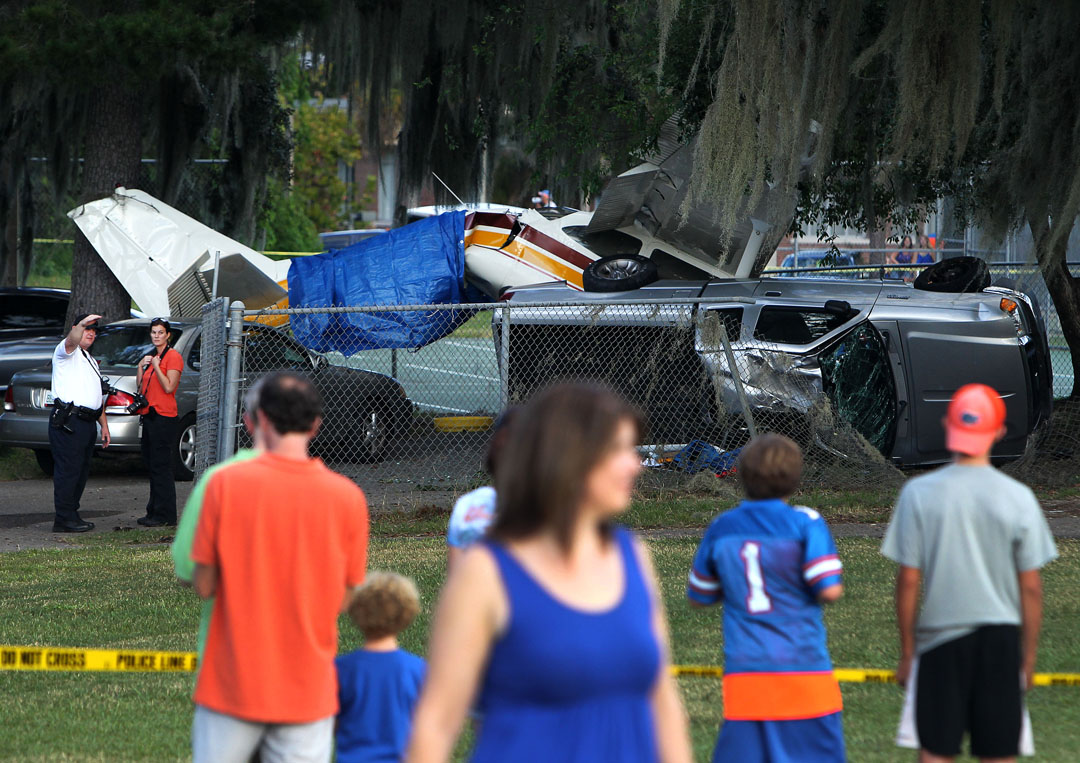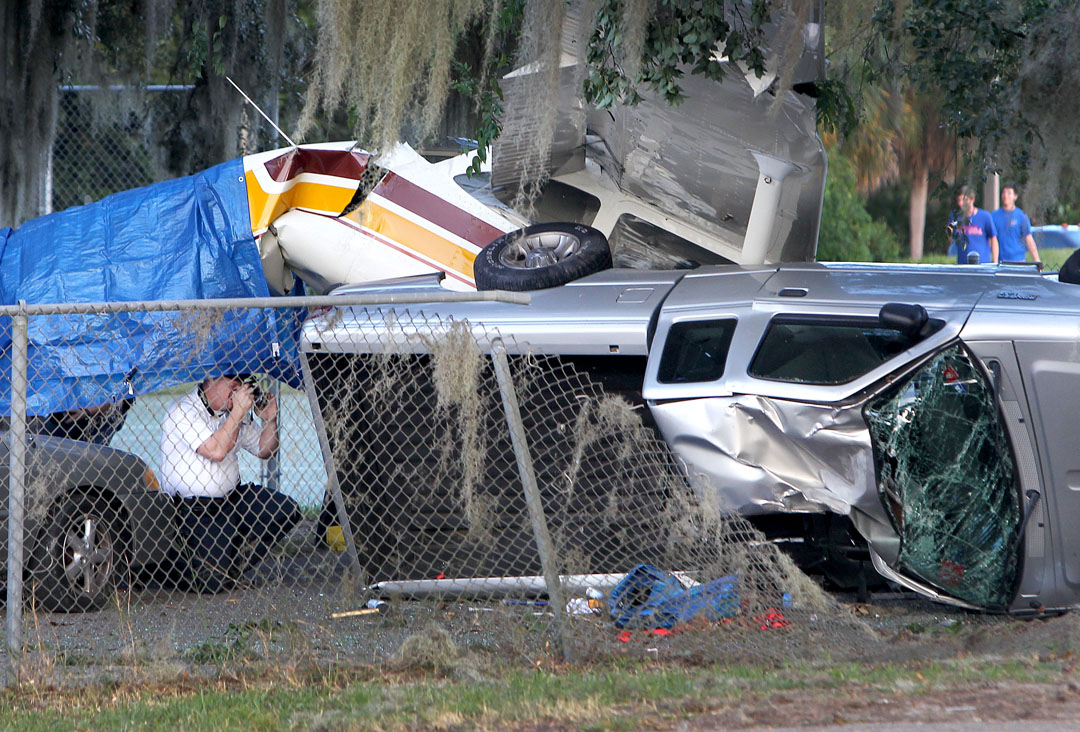 So that made for a wild few hours before kickoff. Once the game started, it took me a quarter or so to get back into football mode. But I was still able to shoot a few nice frames. I even saw a rare smile from starting quarterback Tyler Murphy after the defense made a pick-6. (Alberta was the star of the show when it came to my non-action photos from the game.) Florida won pretty easily.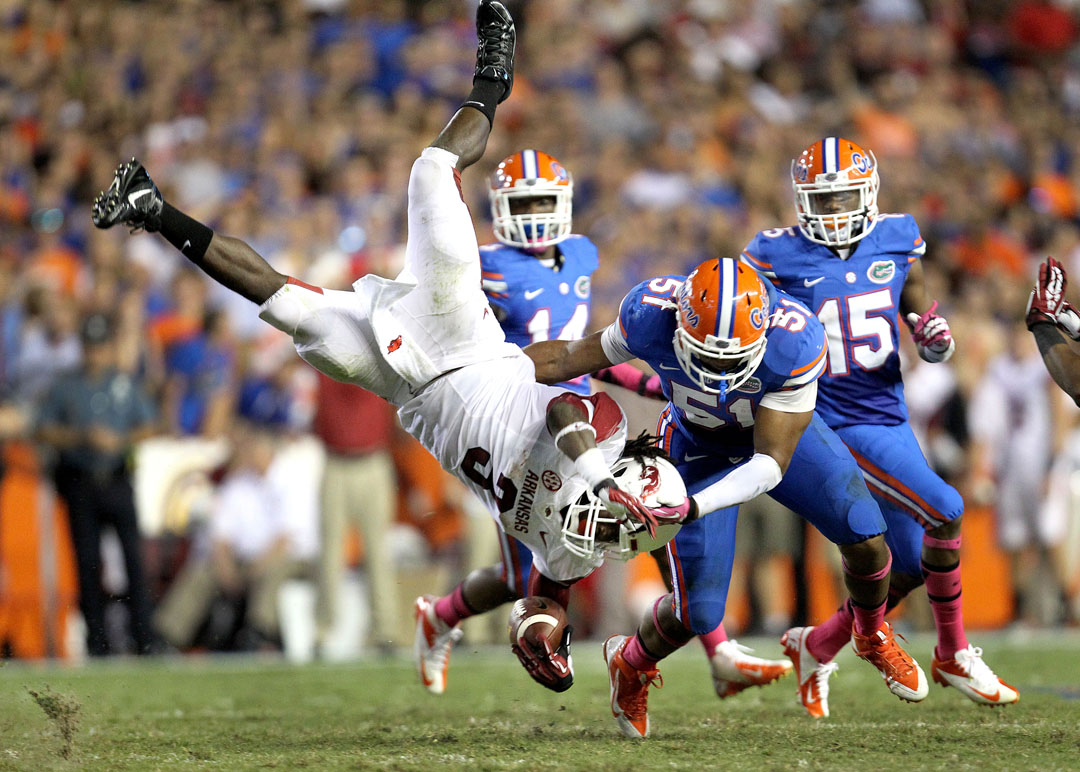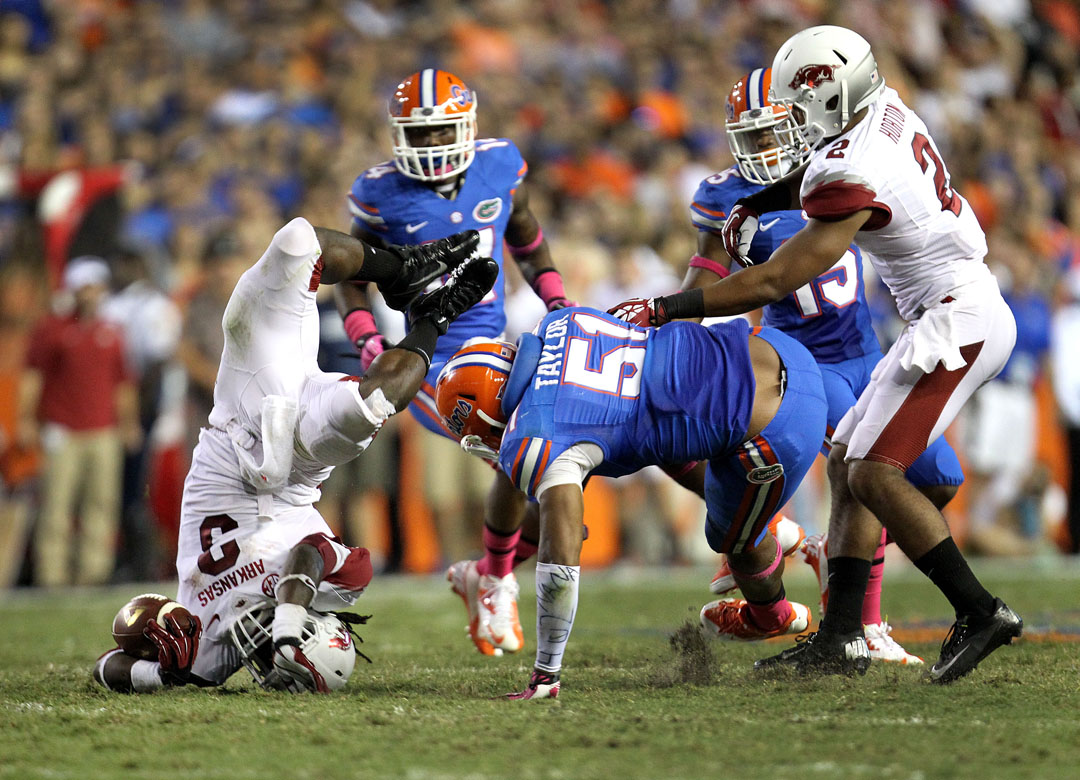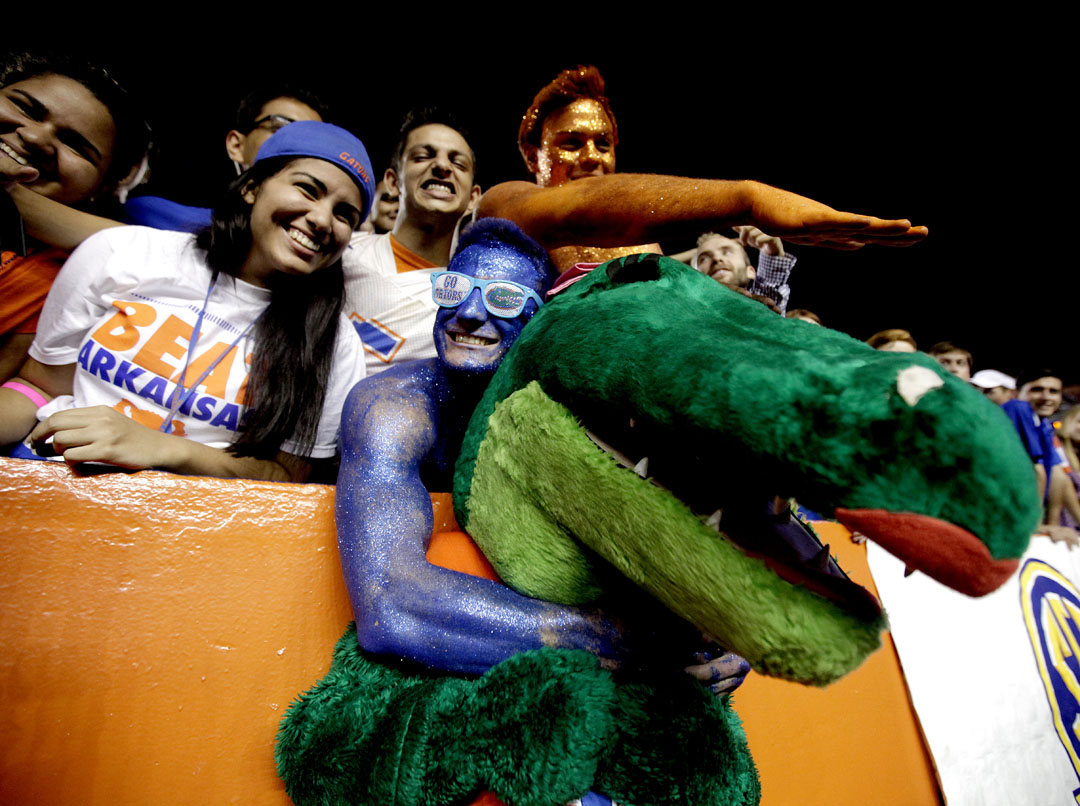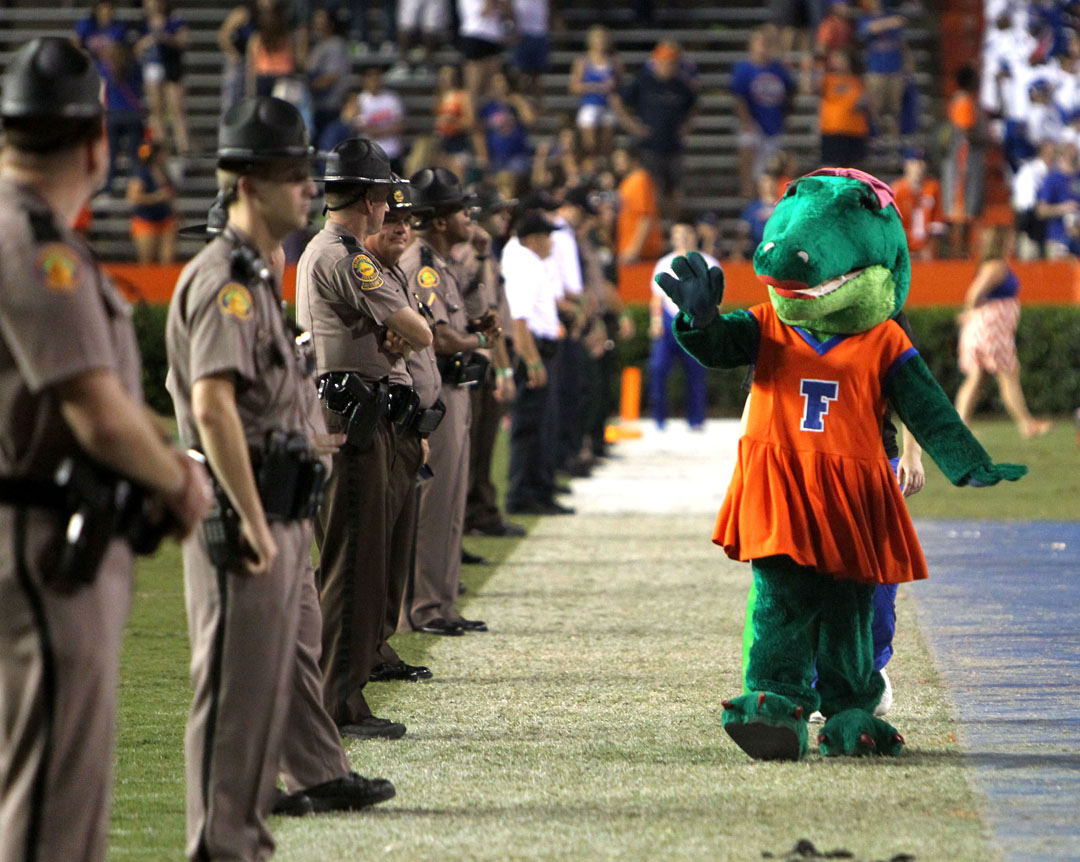 I'm going to step back a few days to a Thursday night high school game in Gainesville. One thing I've learned in shooting sports is to never leave a close game early. Even if it's one of the most boring games you've ever seen. Tied at zero late in the fourth quarter, part of me wanted to high-tail it out of there and go home. But I figured I should stick around to see who wins. Glad I did.
The game ended up going into triple overtime with the Buchholz Bobcats winning after recovering a fumble. And that's what I love about covering sports… even the small games can get pretty darn exciting. In the last few minutes of regulation and the overtimes, this game had fumbles, missed field goals to win the game, touchdowns, big penalties and some great post-game celebration.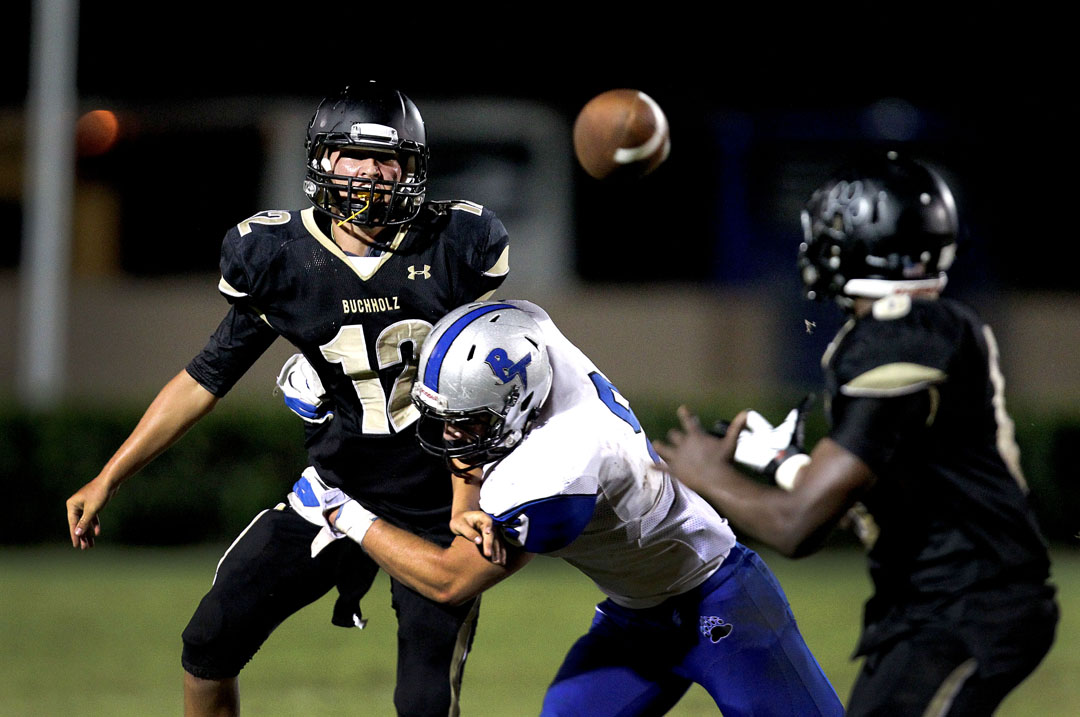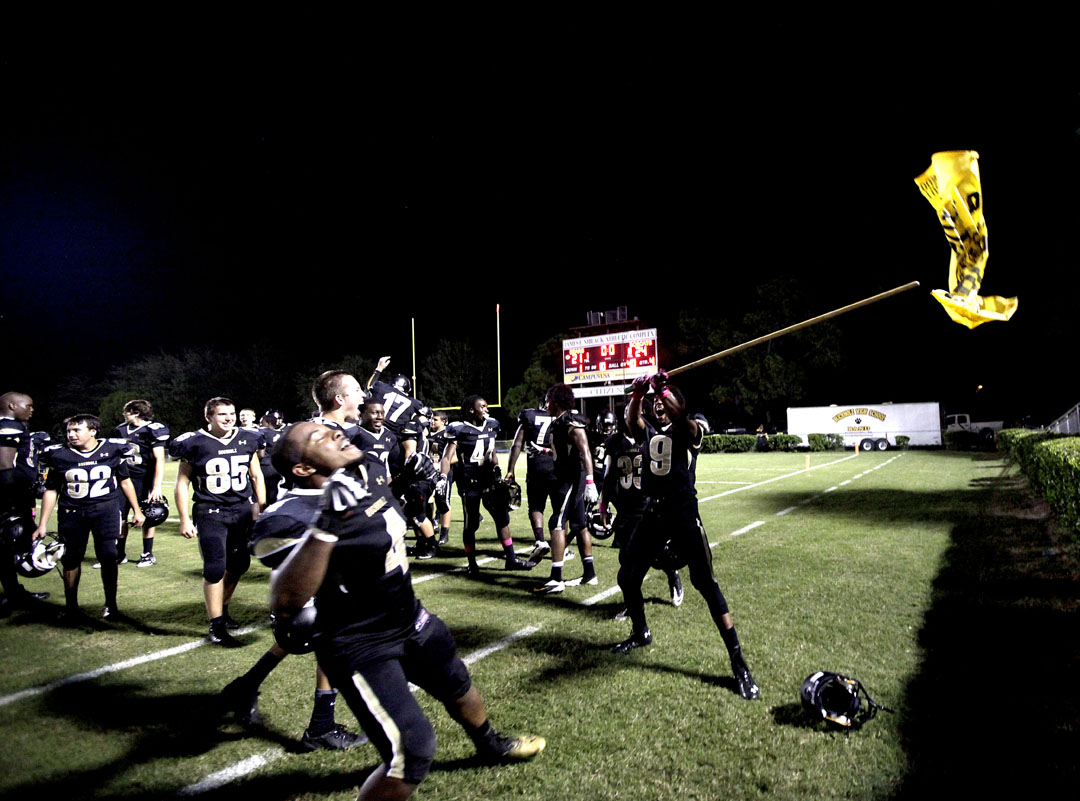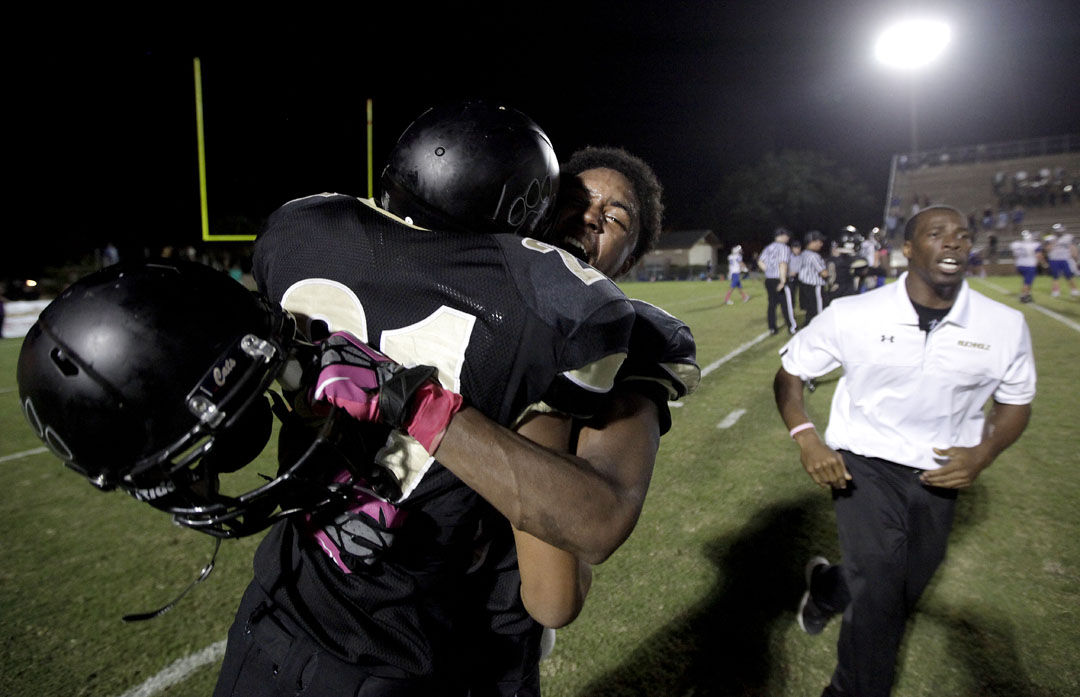 Ok, now fast forward to this past weekend. Doug Finger and I road tripped to Baton Rouge for the LSU vs Florida game. It's a great SEC rivalry that I love to shoot. This is the sixth time I've shot this rivalry and I think all but one has been pretty darn exciting.
I miss the heck out of shooting in Tiger Stadium and just being in Louisiana. I wish it could have been a longer trip but surely I'll be back soon (Dang it, stop calling me surely!) But I was able to eat some good food and bring home two pounds of Community Coffee.
LSU has some great pre-game traditions and always has a good crowd. Even though the stadium didn't fill up, it still go pretty loud. (Not sure why they didn't fill the stadium. Great weather, ranked rival in town, they lost to UF last season… should have been off the charts. Oh well)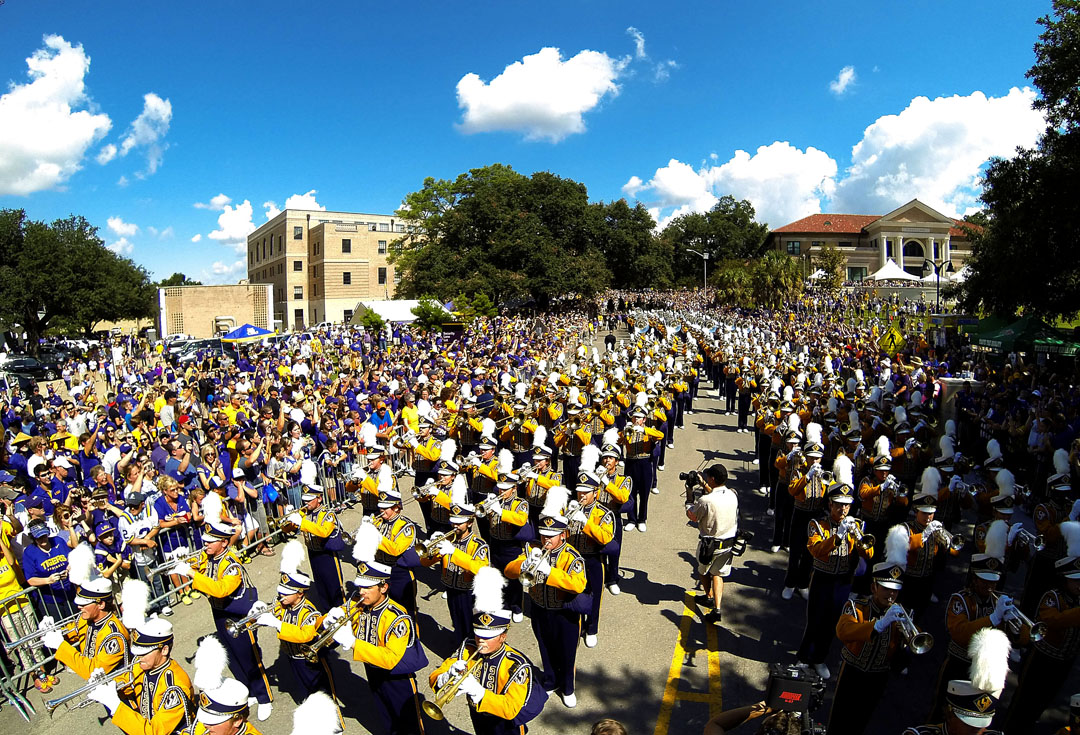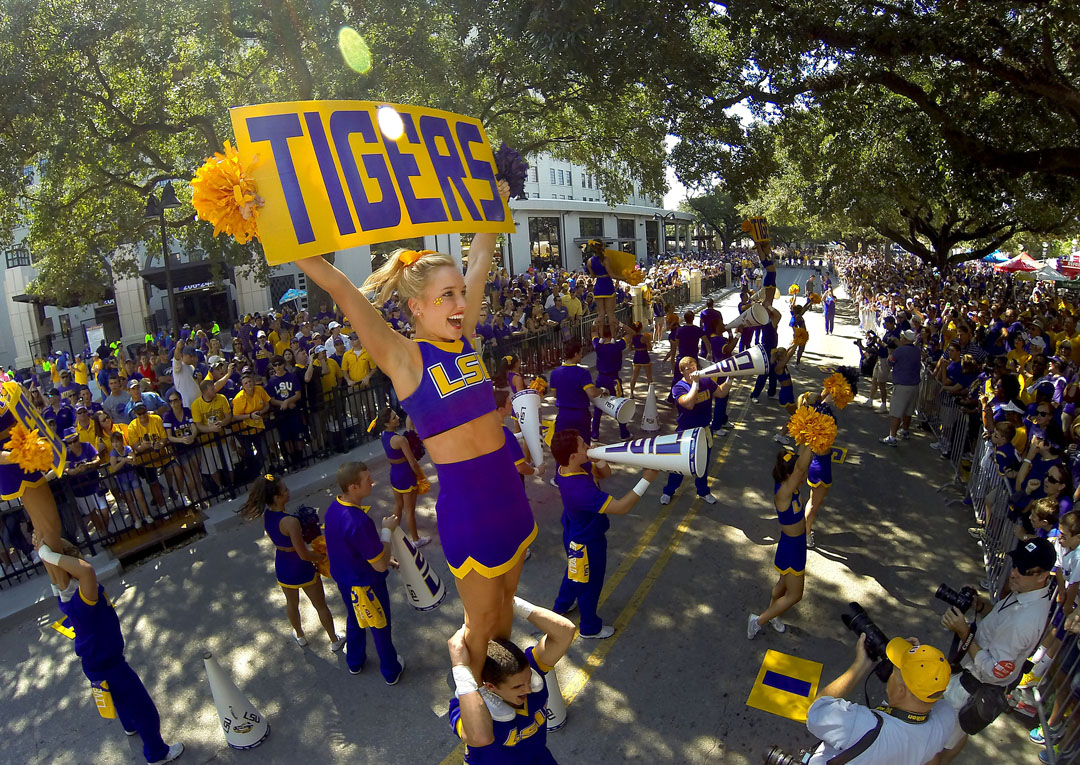 Florida's defense has been dominate all season. But it was LSU's D that stepped up and kept the Gators out of the end zone. The 17-6 final was almost an exact opposite of last year's score of 14-6. The team that scored a touchdown, won.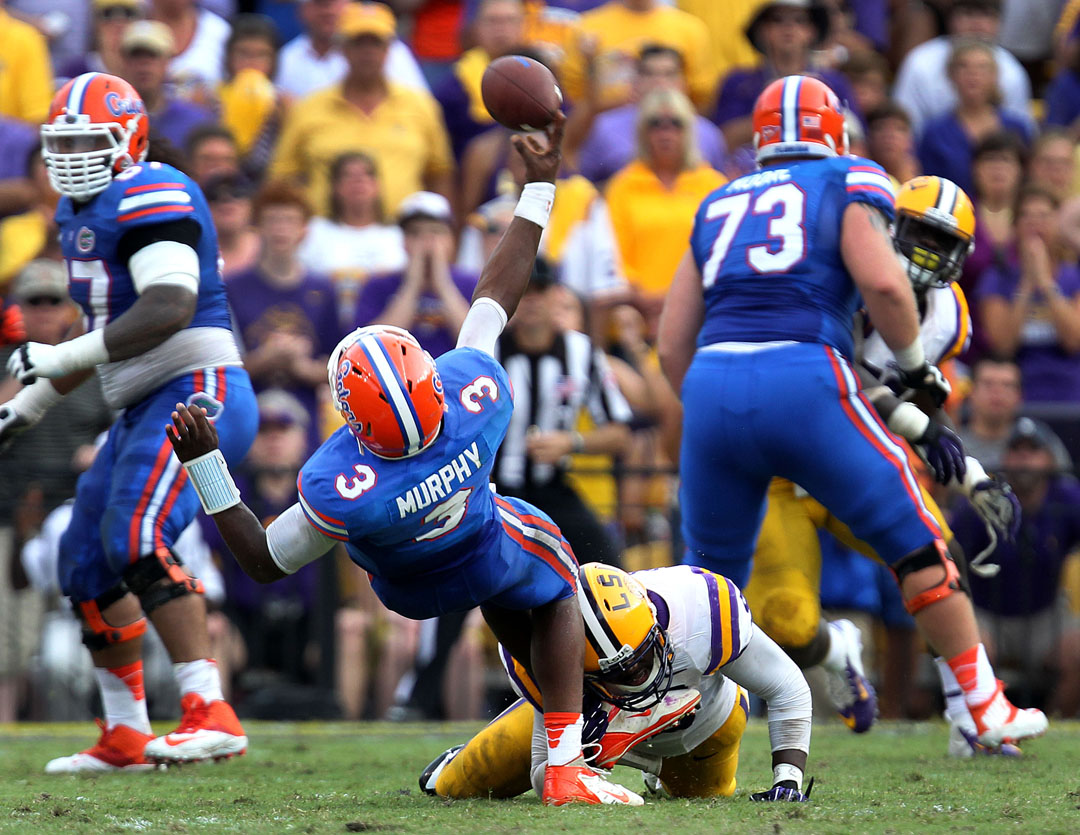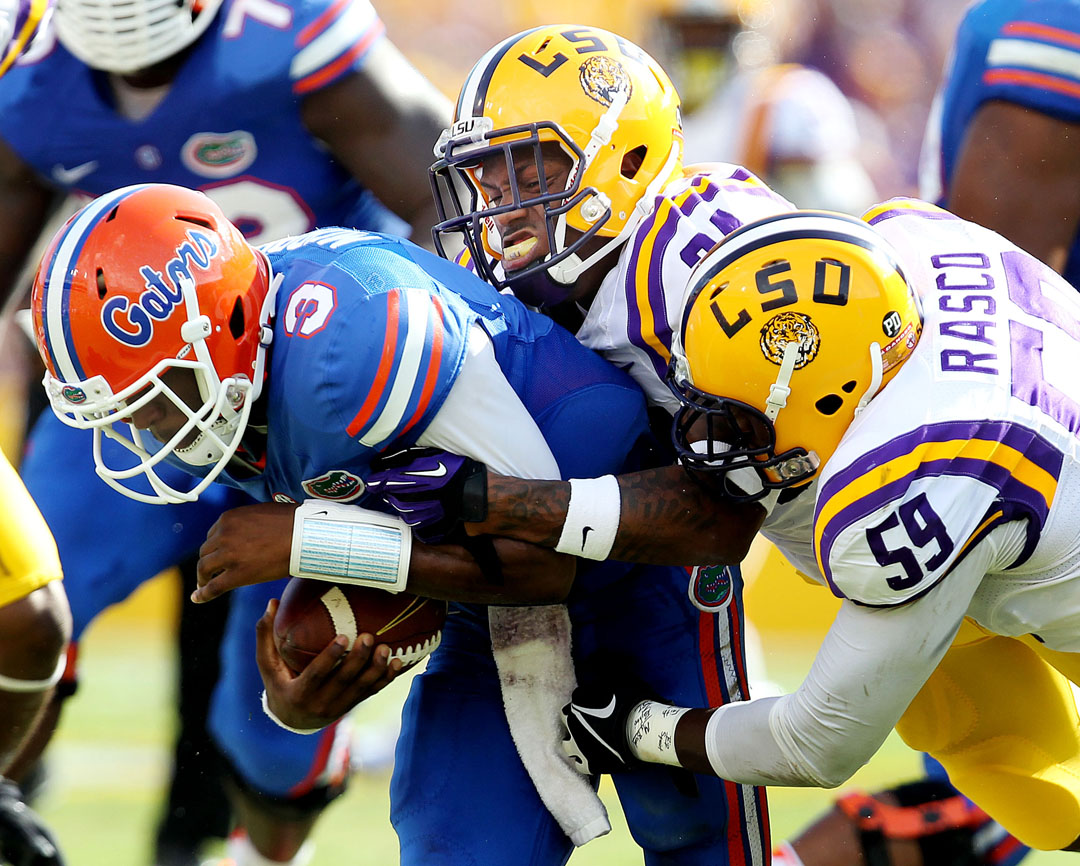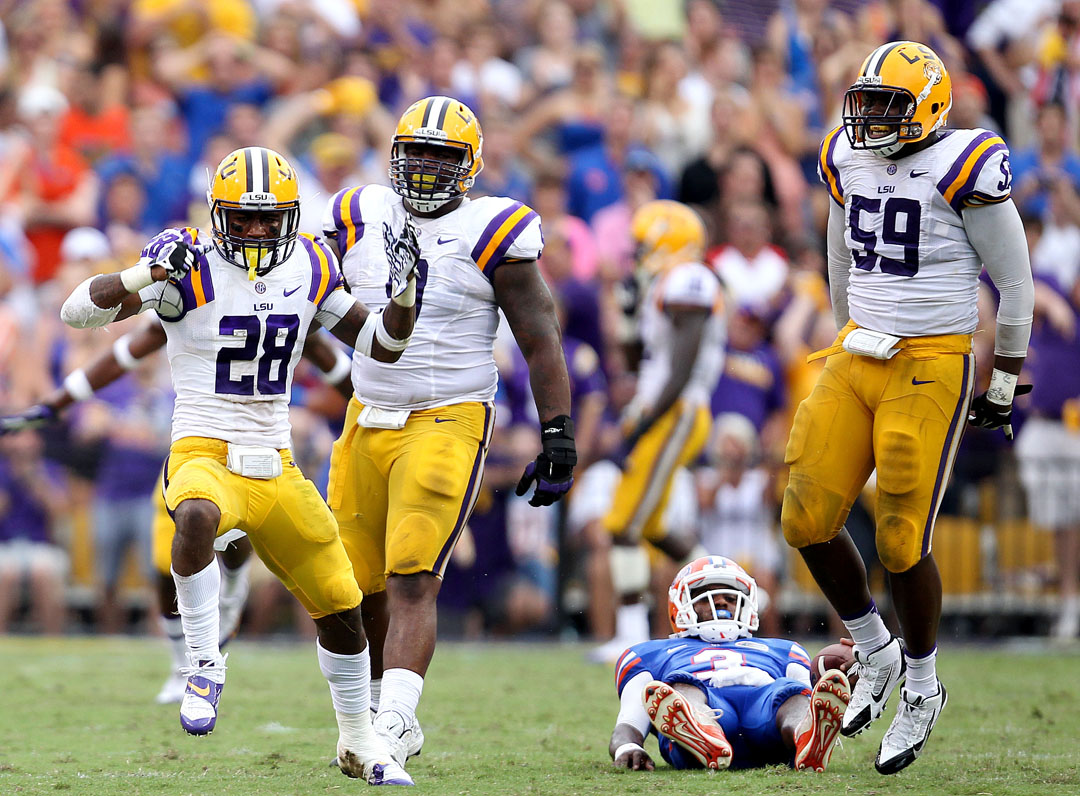 Head coach Will Muschamp seems like a pretty normal guy… until something happens to make him angry. I really hope I don't do anything to make coach angry. He reminds me a little of Frank Martin. But Frank is an intimidating dude to begin with, will is not.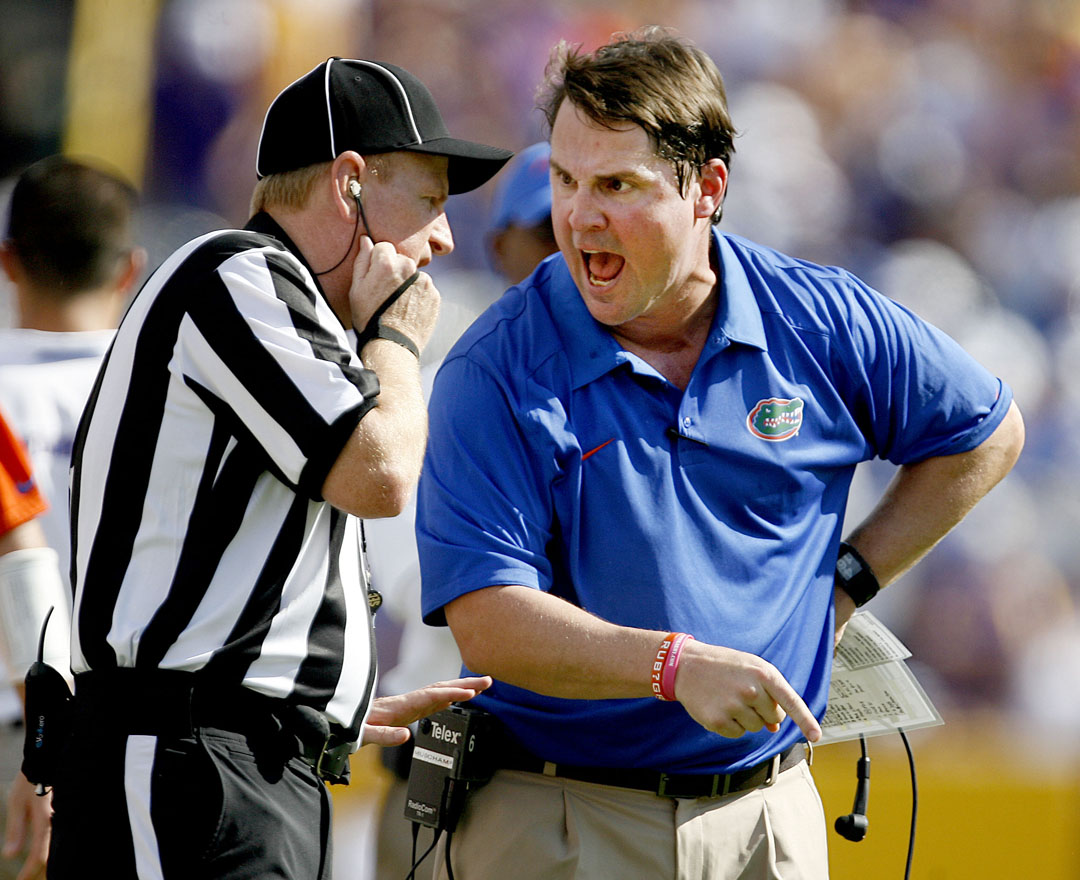 And here's a few others from the game…
-Defensive lineman Damien Jacobs (Houma Native and H.L. Bourgeois grad I covered in while working at The Courier) loses his helmet on an LSU touchdown in the first half.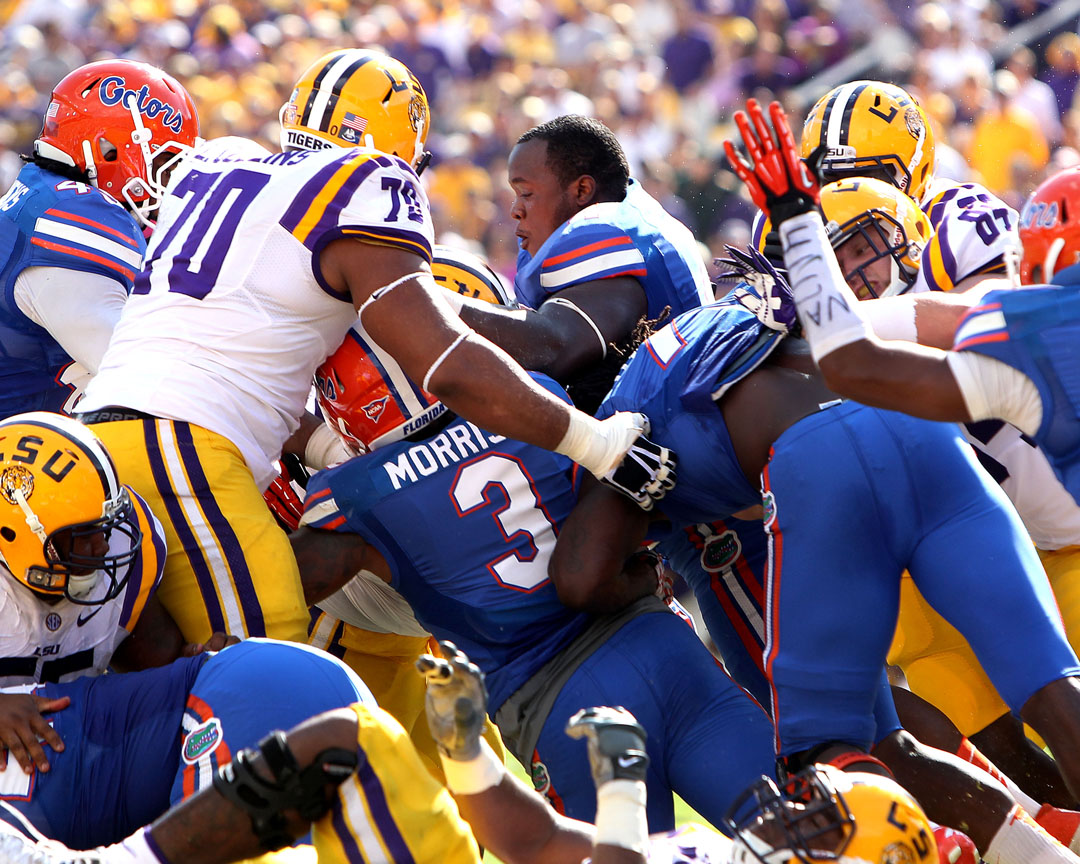 -Quarterback Tyler Murphy walks off the field after the loss. He's a good player, I'm excited to see what he can do the rest of this season and next year. (Jeff who?)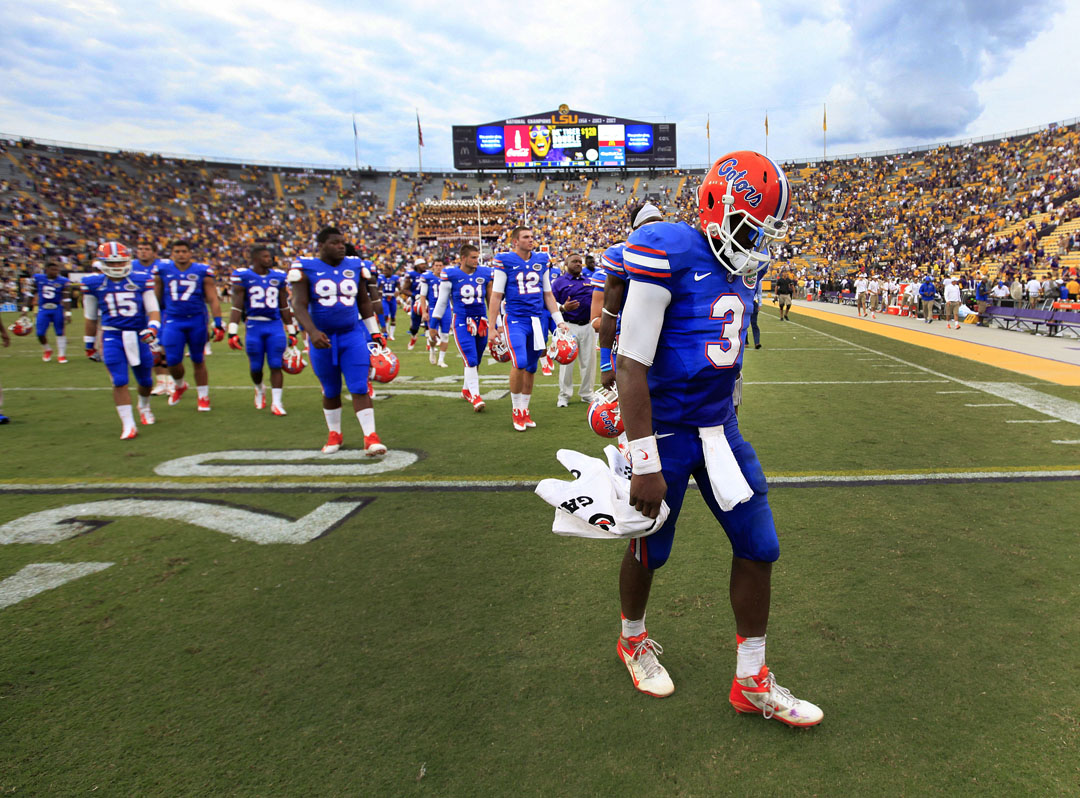 -And I found the two coolest people in the crowd. Hands down, they were the best dressed people in the stadium.
Comments
comments