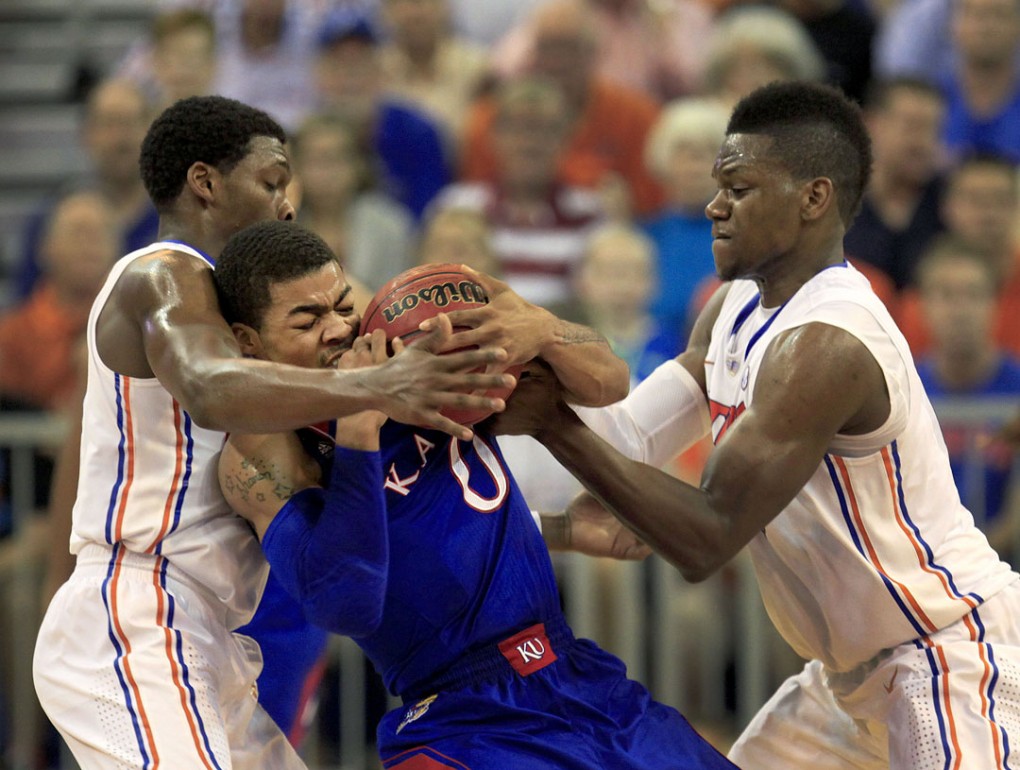 During a grade school History of Kansas lesson, my teacher said "If you were born in Kansas, you're a Jayhawk." I said "No I'm not, I'm a Wildcat." She was referring of course to the mythical Jayhawk creature thing as a state of Kansas figure, not necessarily KU's mascot. I didn't care, I was NOT going to be referred to as a Jayhawk.
The basketball version of the Jayhawks came to visit Gainesville earlier this week. If this game were played in Lawrence, KU would have won by 15. But lucky for the Gators, the game wasn't at Allen Fieldhouse. In one of the biggest regular season home games for Florida in a few years, they dominated the Jayhawks in the first half, then held on in the second half to get the win.
Like I said on Facebook before the game, I'm not a fan of ether team, but for totally different reasons. But once the game tipped off, I went into photog mode and just tried to make images of one of the greatest college basketball atmospheres I've seen. The Rowdy Reptiles (student section) lived up to their name and even the old folks (alumni) side stayed until the final buzzer. They usually leave with about 5-10 minutes to go in the game…. even if it's close.
Two players on the court played at the same high school in Gainesville… but not at the same time. Florida senior guard Scottie Wilbekin and Kansas freshman center Joel Embiid both went to the Rock, a private school a few miles from my house. Joel started playing basketball two years ago, and now starts for KU. He's good. Scottie's freshman year at UF was my first season hear. And I shot Joel a few times last season after he announced he was going to KU. So it was fun for me to see these two guys on the same court.
Joel is tall, athletic and really good. The K-State fan in me wants him to leave early for the pros, but he could make an epic college basketball center if he sticks around a few years. As you can see below, blocking the shot of Florida's center wasn't much of a challenge. (Even if he leaves, KU always reloads so it wouldn't really matter)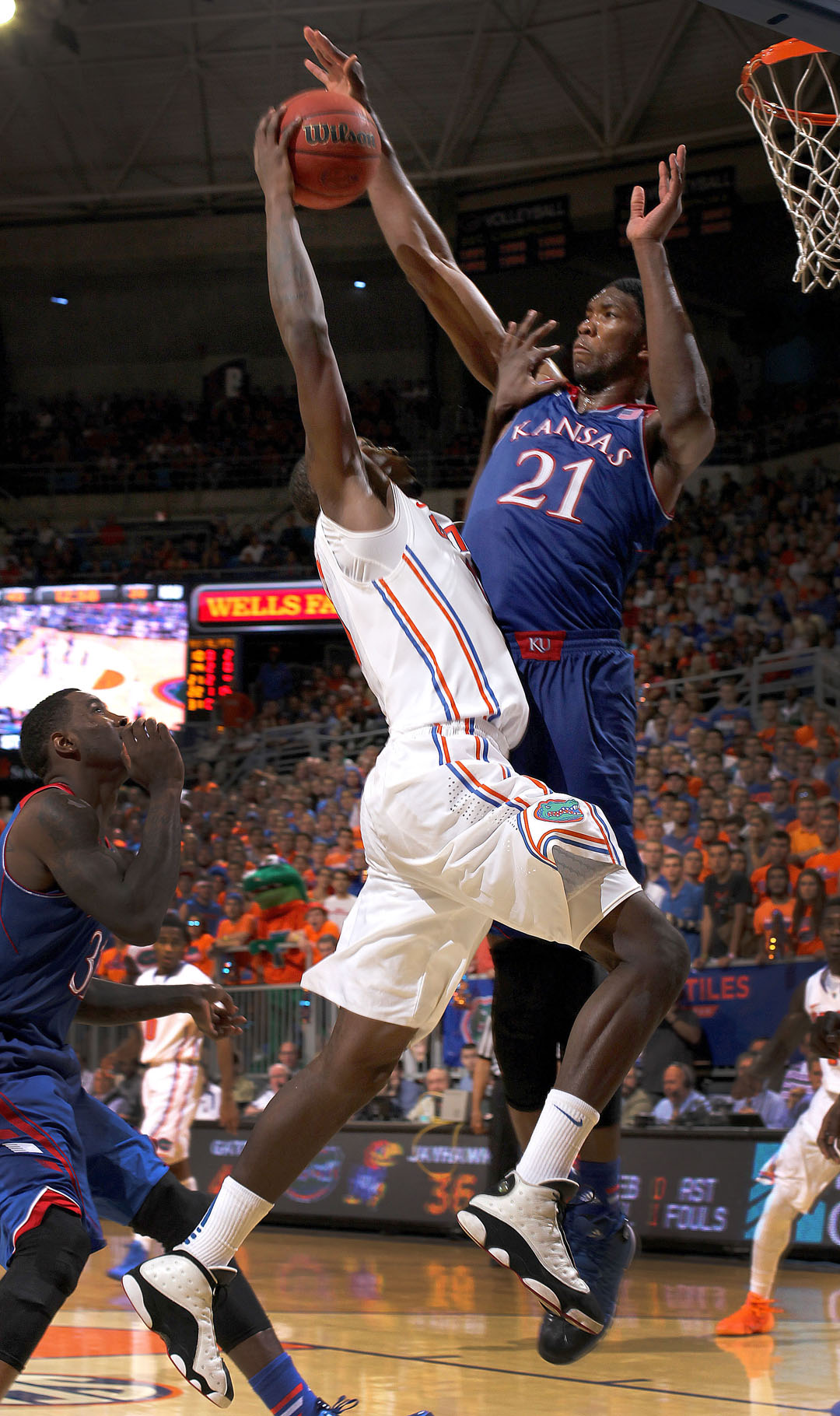 And then there's Andrew Wiggins. Sports Illustrated compared him to Wilt Chamberlin and Danny Manning in terms of being an all-time Kansas basketball legend. Time will tell, but he's pretty darn good. He brought KU back late in the game with some clutch three's. The students kept chanting "Over-Rated" at him… But he was probably the best player on the court.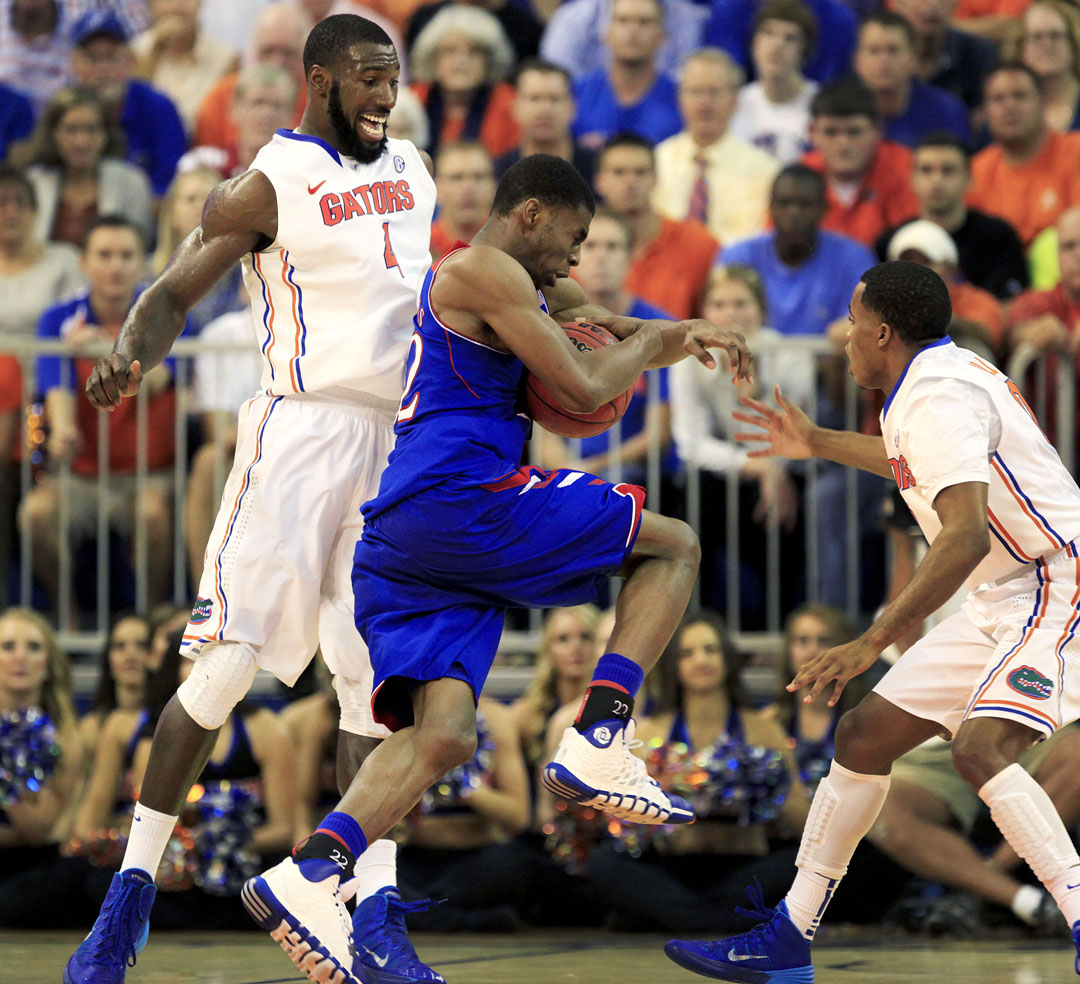 But Casey Prather had other ideas on how great Wiggins is when he blocked this shot.
My buddy and former co-worker Nick, who works at the Lawrence Journal-World, made the trip to shoot the game. Check out his take here. He and I worked in Topeka when I was an intern there the semester after college. We've bumped into each other a couple of times during the NCAA tournament. So it was cool to catch up with him in Gainesville.
Quick thought on taunting Kansas players (or natives). If you're going to make Wizard of Oz jokes at Kansas players, be creative. "You're not in Kansas anymore" is not funny and does nothing to distract the players. I hear that phrase once a week so I can only imagine how often these players hear it. Dig deep and come up with something original. Wicked Witch, Munchkins, yellow brick roads… anything is better than "You're not in Kansas anymore."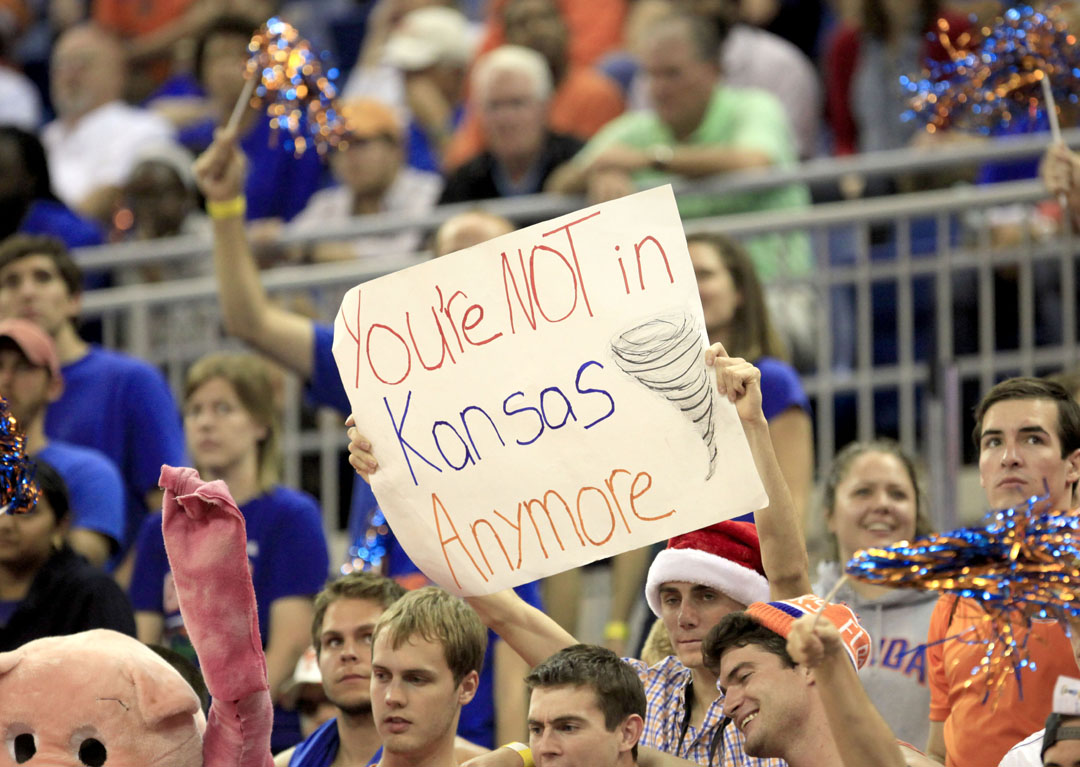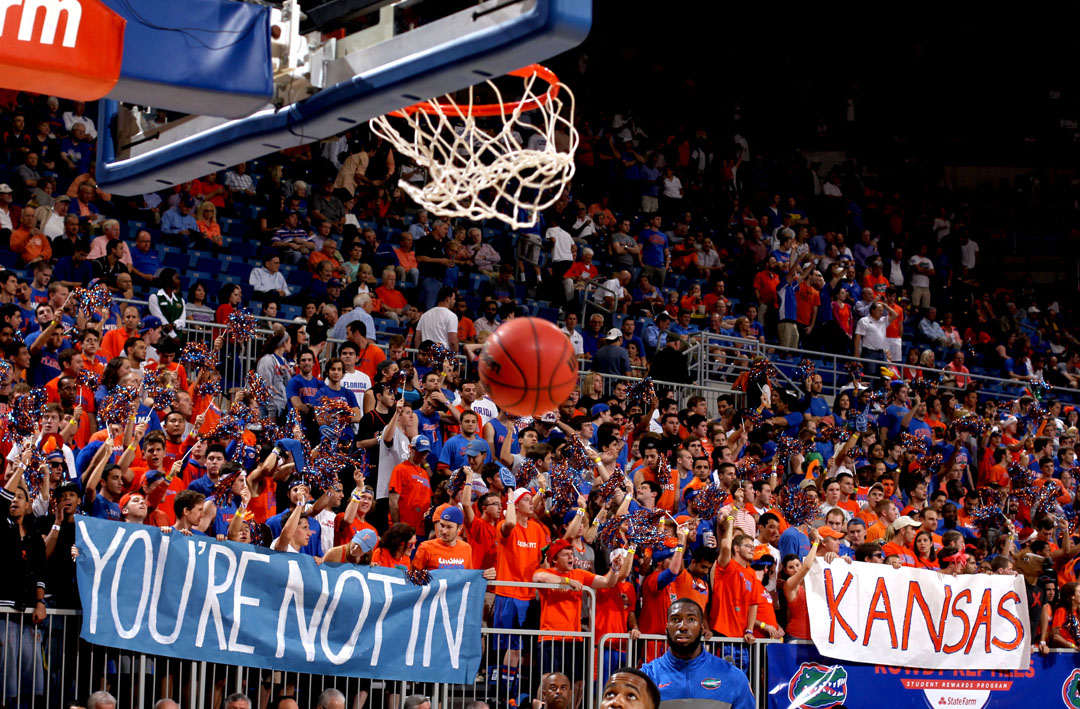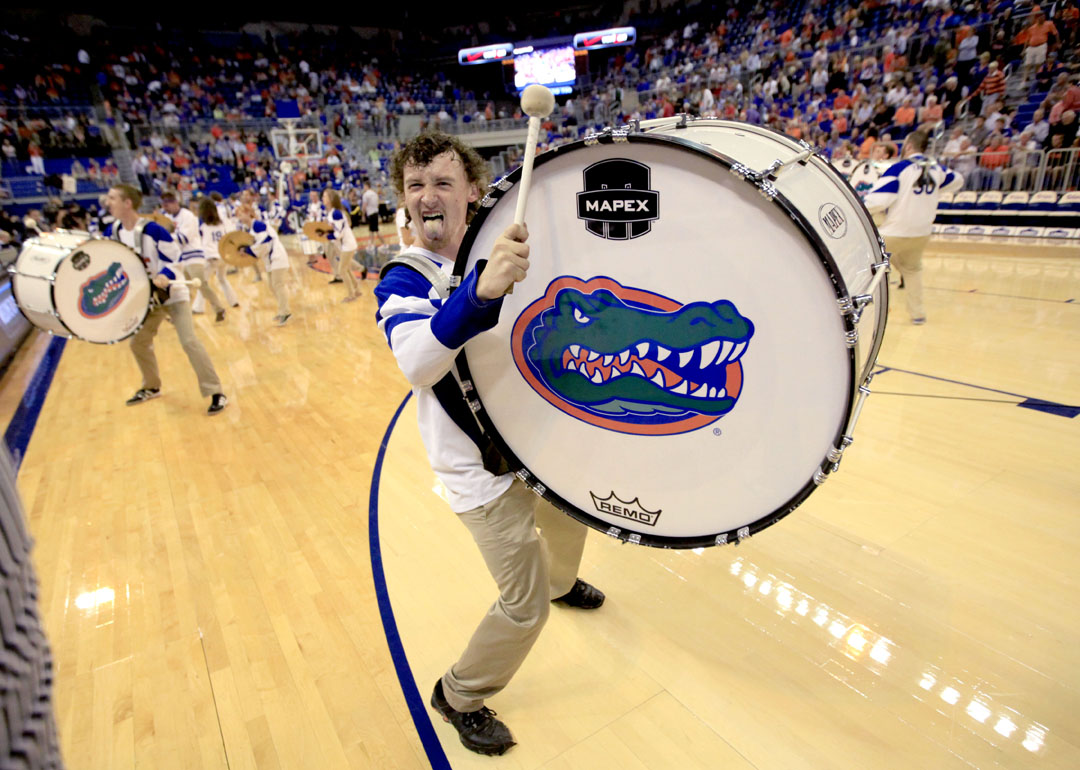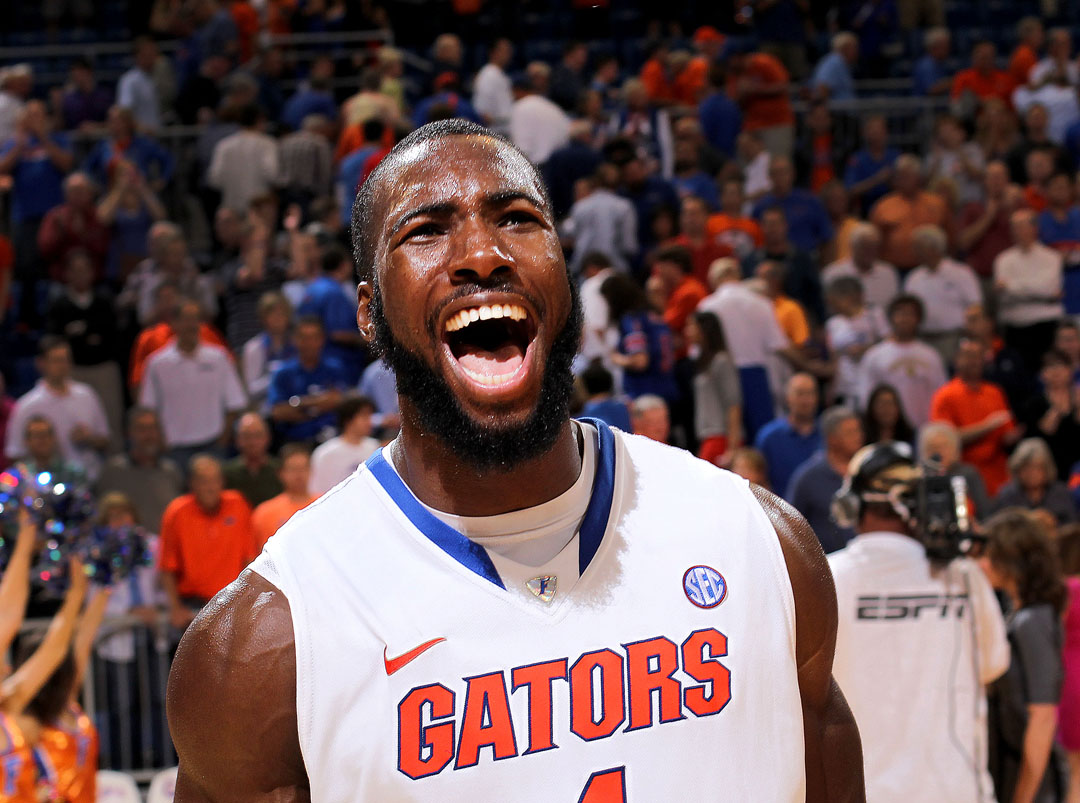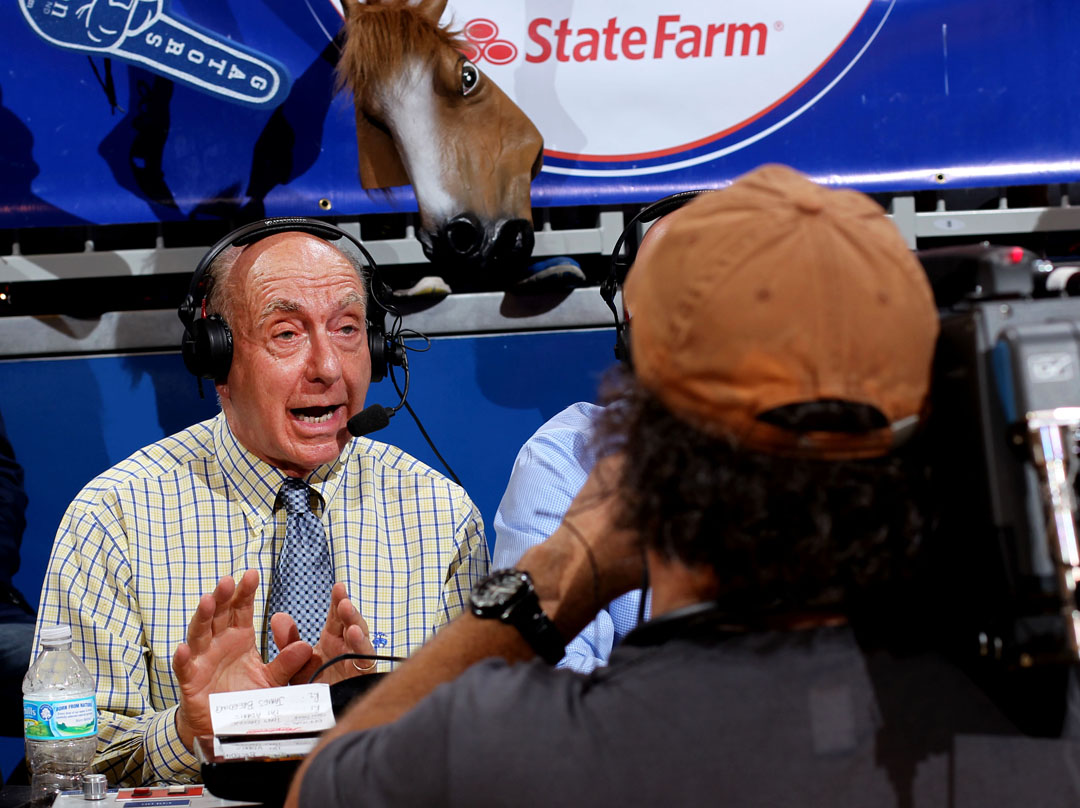 Oh, and Laura had front row seats to the game (Third level.) She got free tickets as a student and didn't have to camp outside the O-Dome to get into the game.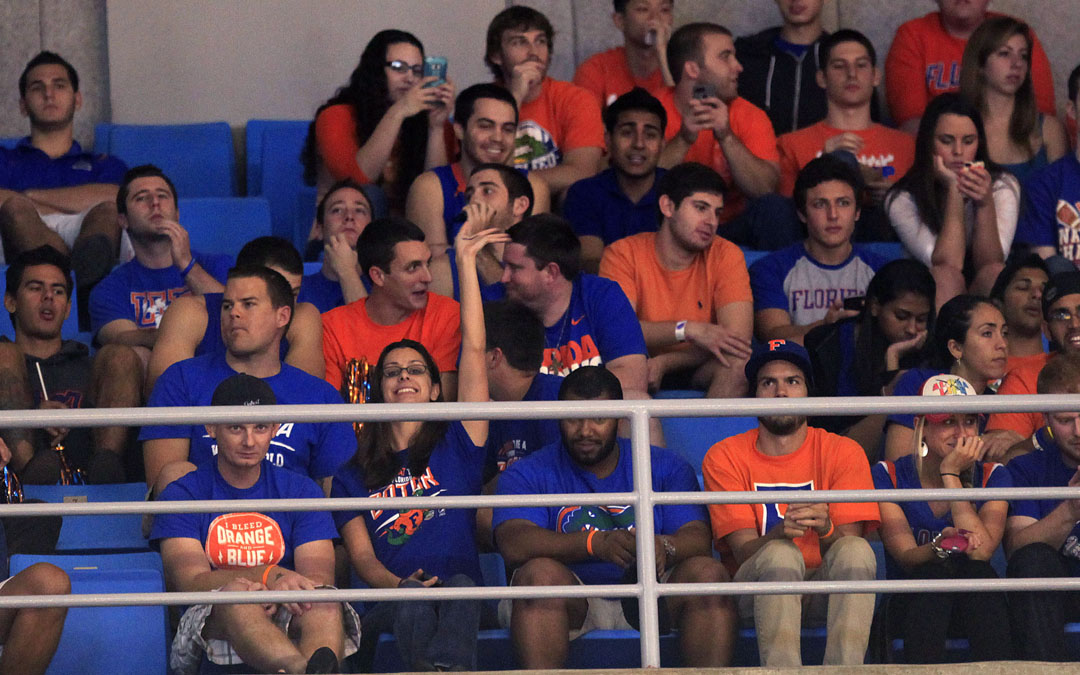 Comments
comments