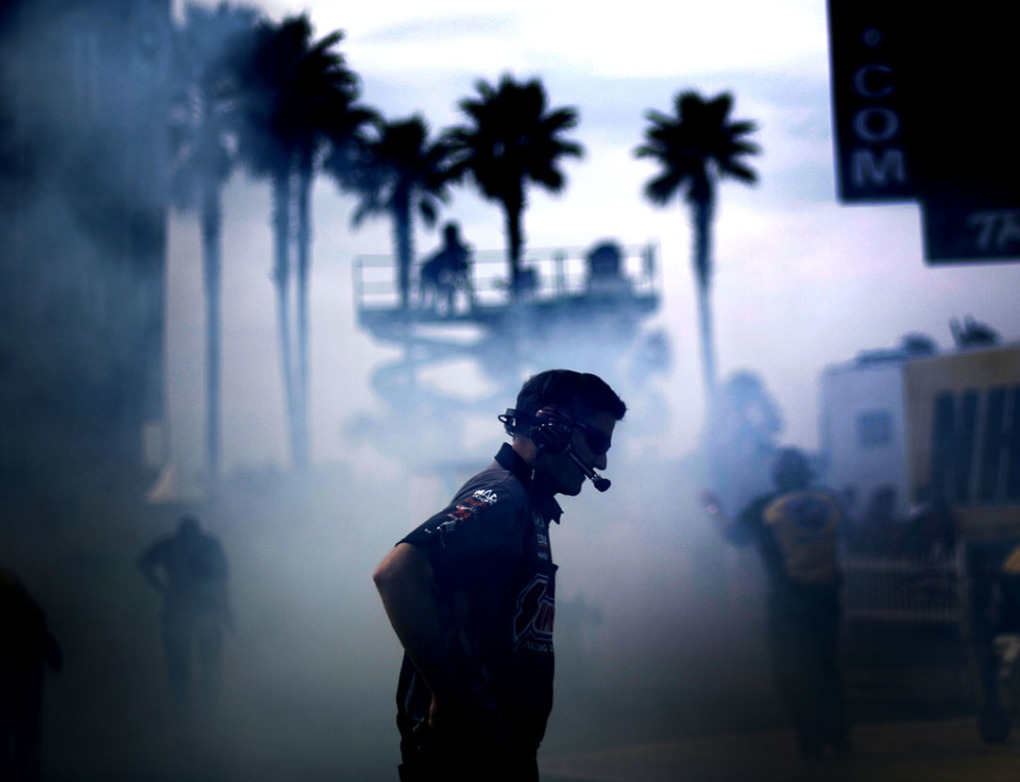 I shot a different kind of March Madness this past weekend. With Florida basketball not being all that great this season, I didn't follow the team to the SEC Tournament in Nashville. Instead I got to shoot the NHRA Gatornationals for the first time. In 2003 as an intern in Topeka, I shot the NHRA event there at Heartland Park. After standing down by starting line with Mike Shepherd for a few races I decided that it wasn't for me and headed out into the crowd to shoot features. It's loud, hot and you get covered with specks of rubber. So I left the racing photos to Shep. Fast forward 12 years and I finally got another chance to shoot some professional drag racing.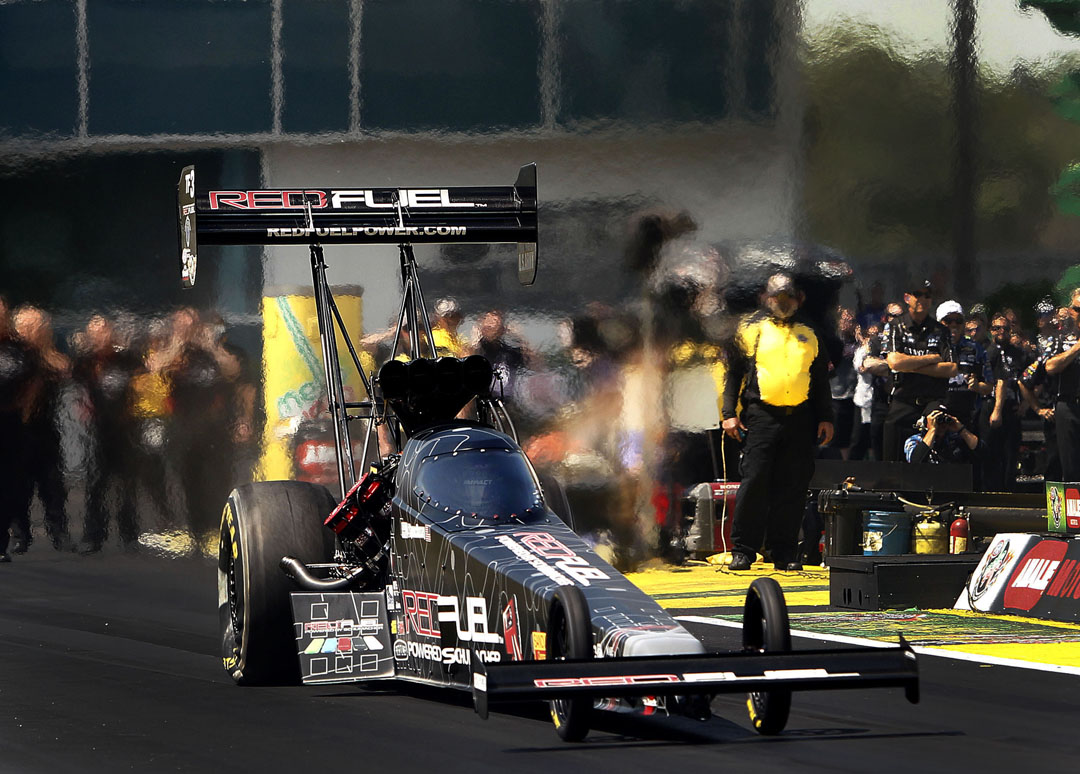 I don't remember much about how these events work from 12 years ago so I considered myself a rookie. I remember a few of the names but that's about it.
There's four main groups of vehicles, Pro Stock Motorcycle, Pro Stock cars, Funny Car and Top Fuel (above.) Each car gets four qualifying races, two on Friday and two on Saturday. The top 16 qualifiers in each group make it to the Sunday races. At this point it's like the sweet 16 with a playoff bracket where the top qualifier races the 16th qualifier and so on. At the end of the day, there's four champions, one from each group.
There's also a handful of other groups, but the four listed above are the biggies and all I really needed to care about… but I still shot the others just for the practice.
Each dragster rolls through a small puddle of water behind the starting line to get their wheels wet. Then burns out to heat up the tires and clean any debris that might be on them. (This is when the specks of rubber to flying and coat anything that's near by.) Then they line up and race down the track. (This is when it's loud) I doubled up on ear protection since I didn't have professional high-end ear muff things. So I had plugs plus a small set of ear muffs that seemed to do the trick. What you can't prepare for is how intense it feels when they pass by. It shakes everything inside of you. It's a little intimidating at first but you get used to it.
During the Saturday qualifying, Top Fuel driver Larry Dixon had one heck of a crash. I was set up at the starting line and the crashed happened down the track a little ways. So I didn't get a shot of it, but I did see his car land and debris scatter across the track. It's pretty amazing that he walked away unharmed. See the video below. And take a look at Mark's photos from the end of the track. Just amazing footage all around. I was a little bummed I missed it. I shot what I could, including other photogs and media looking at photos back in the press box.
Spending two days out there gave me time to wonder around and shoot fans in the pits. What's awesome about NHRA is how much the fans get to interact with the drivers. They can walk right up to the crew as they work on the cars between races. Imagine if football fans could just hang out in the locker room during halftime.
My first time back there gave me a "live and learn" moment that I probably should have seen coming, but didn't. As the crews work on the cars, they'll fire them up for some reason or another. It attracts the fans and therefore attracted me to get some photos. What I didn't know is how blinding the exhaust can be. I'd imagine that's what getting pepper-sprayed feels like. I walked up close all confident to make a photo and quickly had to turn around as my eyes started to water, nose ran and I couldn't breath. Again, my rookie card was played here. Here's some photos of fans and a quick video I threw together. (Side note: Detroit Tigers pitcher Justin Verlander took a break from Spring Training to come watch a few races. That's him smiling with the camera pointed at him)
The Top Fuel winner keeps a hula dancer inside his dragster. I thought that was pretty cool. Here he is walking to the winner's stage with his Mellow Yellow and trophy. (Side note: I love that one of the big sponsors of NHRA is Mellow Yellow. I lost track of how many I drank.) Next year I'll have a tough decision to make if the paper decides to send me to the SEC Tournament. Now that I know what the heck is going on at these things, I want another shot at it.
Comments
comments