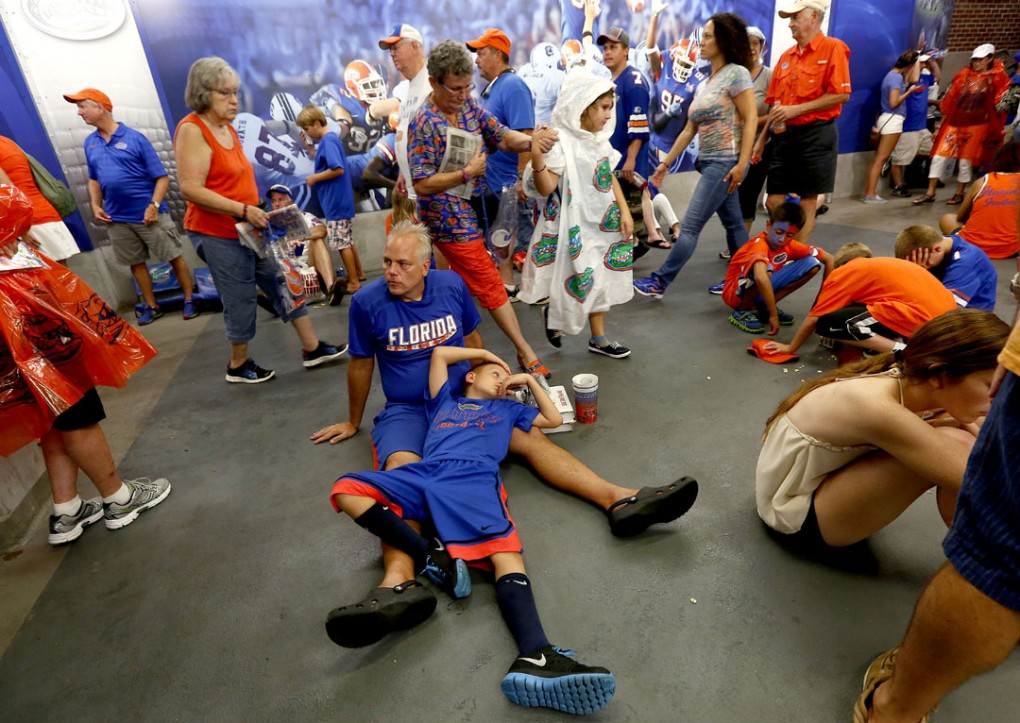 Ok, you've seen a photo. Now go find somewhere dry to wait. I'll let you know when it's safe to come back to this blog and resume looking at photos.
Normally the start of football season means cooler temperatures and long sleeves. Not in Florida. Early season football games down here mean random thunderstorms, heavy rains, lightning and sauna-like humidity.
The first game of the season featured two north Florida powerhouses in a 44-43 overtime win for the visiting team. Columbia decided to go for two after their overtime touchdown brought them within one against Gainesville. If I were a fan of Columbia, I'd hate that decision, but as a photog just enjoying the game, it was awesome. (The winning touchdown is the photo of the kid pointing as he trots into the end zone.)
I was hoping that game would set the tone for the rest of the weekend games. Not so much. The next two games spent more time in a weather delay than they did actual action. I actually had fun shooting the delays since it's a new twist on events that I've covered over and over again. Made for a fun challenge to find something that says "delay."
The Friday night game was just a small-scale version of the Florida game. Both games started a couple of hours late, fans hung out where they could stay dry, lightning and clouds were on display above the field and both games made for a late, soggy night for me. The UF game finally kicked off, but that's as far as it got. At least it was an exciting play. Valdez Showers (no pun intended) returned the kickoff down to the 14 yard line. Then another lightning strike forced the referees to call the game.
Comments
comments