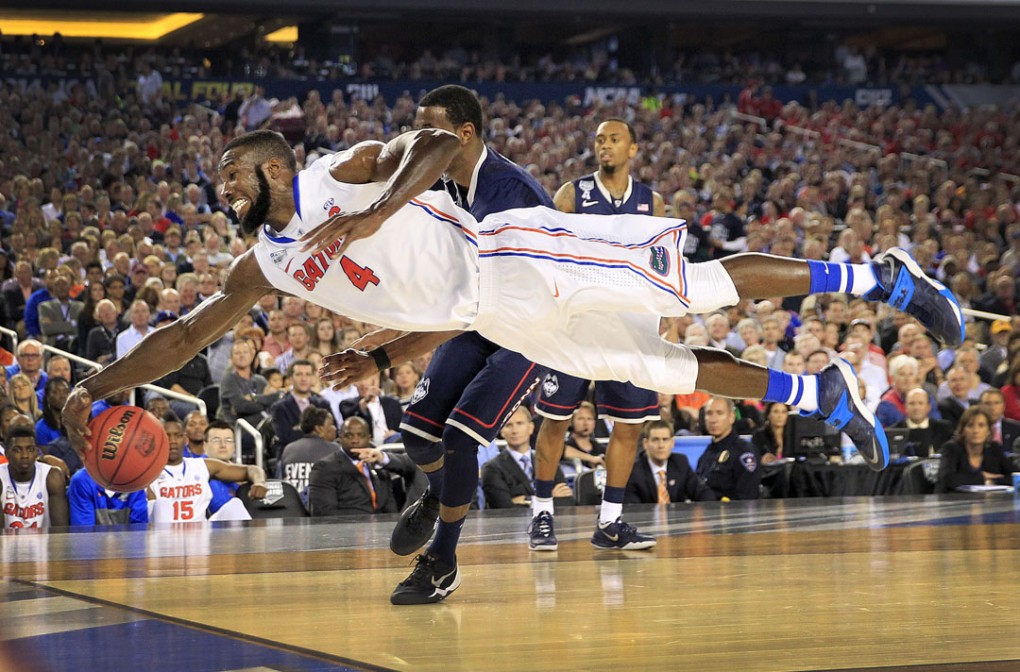 Shooting the Final Four has been on the top of my sporting events to attend bucket list for years. I grew up a basketball fan and watched the tournament each year. I even took vacation days on Thursday and Friday one year just to watch the first rounds.
The Final Four is on a whole other level from the first two sites. Lots more media and fan fair surrounding the event. For example, shooting the practices are usually easy. Just a few local media outlets on the baseline. A few fans and it's really relaxed. Not so much at the Final Four. All the photographer spots on the baseline were full for the practice. Thousands of fans were in the seats… it was just chaos.
And AT&T Stadium (Cowboys Stadium) is just massive. It's hard to show in photos or say in words just how big this place is. And then there's that scoreboard. It dwarfs the court.
It was a pretty awesome experience to be on the sideline for a Final Four game. I shared the baseline with one of the photographers I've looked up to for years for the Florida vs UConn game. Rich Clarkson has shot 59 Final Fours in a row. Yep, he's a legend. He spoke to my photo class in college and I've always loved seeing what he gets from the Final Four. He and I spoke for a while after the game. Always cool to chit chat with a hero of sorts.
We had dinner with a group of photographers the night before the Championship game. Robert Deutsch with USA Today, who was shooting his 15th Final Four, asked where I was on the court. I told him and he said "ah, the good side, that's my side."  He went on to explain that the spots on that side of the court have been set in stone for years. Rich Clarkson on the far outside spot, him inside Rich, Sports Illustrated (Greg Nelson), AP  or AP member (Tom Fox with the Dallas Morning News) then the local newspaper of the home team (that's me!) So, the photo nerd in me felt pretty honored to be sitting next to some big time shooters.
Florida's last loss of the season came on a fluke buzzer beater by UConn on Dec. 2.  So it was kind of fitting that their next loss, and season-ending loss, would come against UConn. The Gators led early and looked like they were going to roll like they had all season. But mid-way through the first half they just stopped playing like they had all season. It was the bad game everyone thought they'd have sooner, but it happened to come in the Final Four. But UConn was good as they went on to beat Kentucky in the Finals.
I don't think I'll shoot 59 straight Final Fours, but I really hope this is the first of many I'll attend. It's a ton of work, but all worth it.
What a wild ride. The Gators ended the season 36-3. They  beat KU.  They had a 30-game winning streak, including never losing an SEC game. They beat KU. They cut down three sets of nets. They beat KU. And brought three trophies back to Gainesville. (SEC Regular Season champs, SEC Tournament champs, and NCAA South Regional champs.)
And the seniors are four of the coolest guys I've been able to follow through a career. Patric Young stopped playing to apologize after accidentally hitting a player in the mouth. No whistle, but he stopped, then realized he should finish the play (a missed dunk, actually) That pretty much sums up how good of a dude he is. I'd see these guys at other UF sporting events and around town. They were active in the community and just all-around good guys.
I moved to Gainesville their freshman season, so I've seen them all through their college career. Pretty neat to see them grow.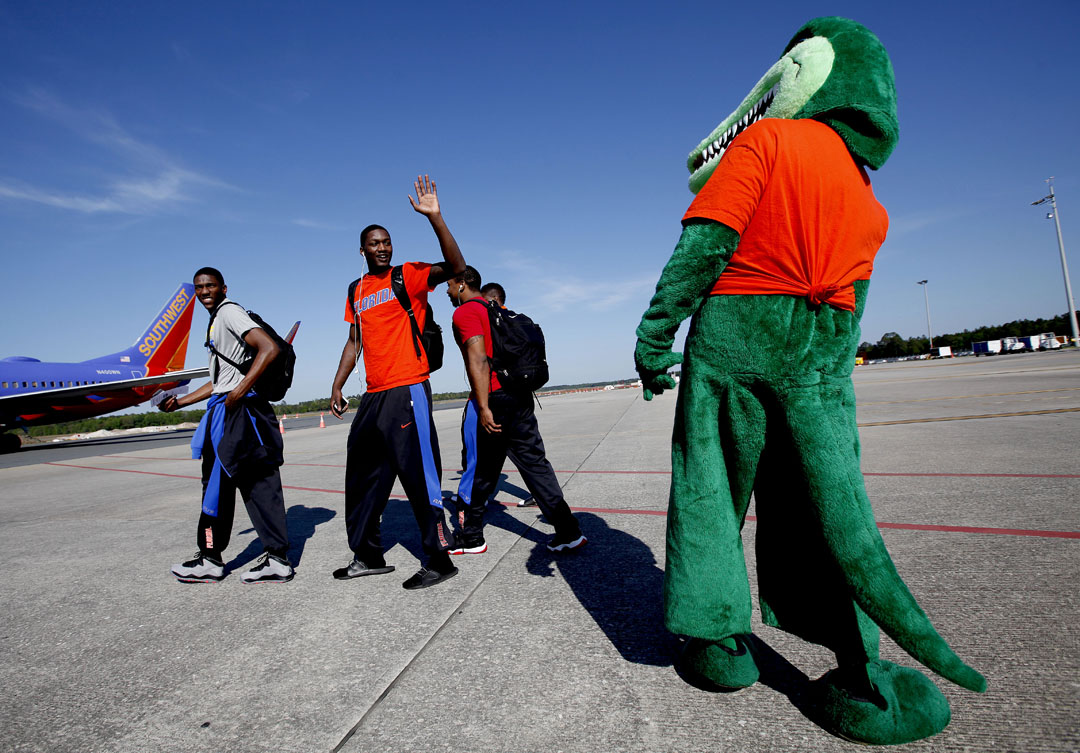 Comments
comments