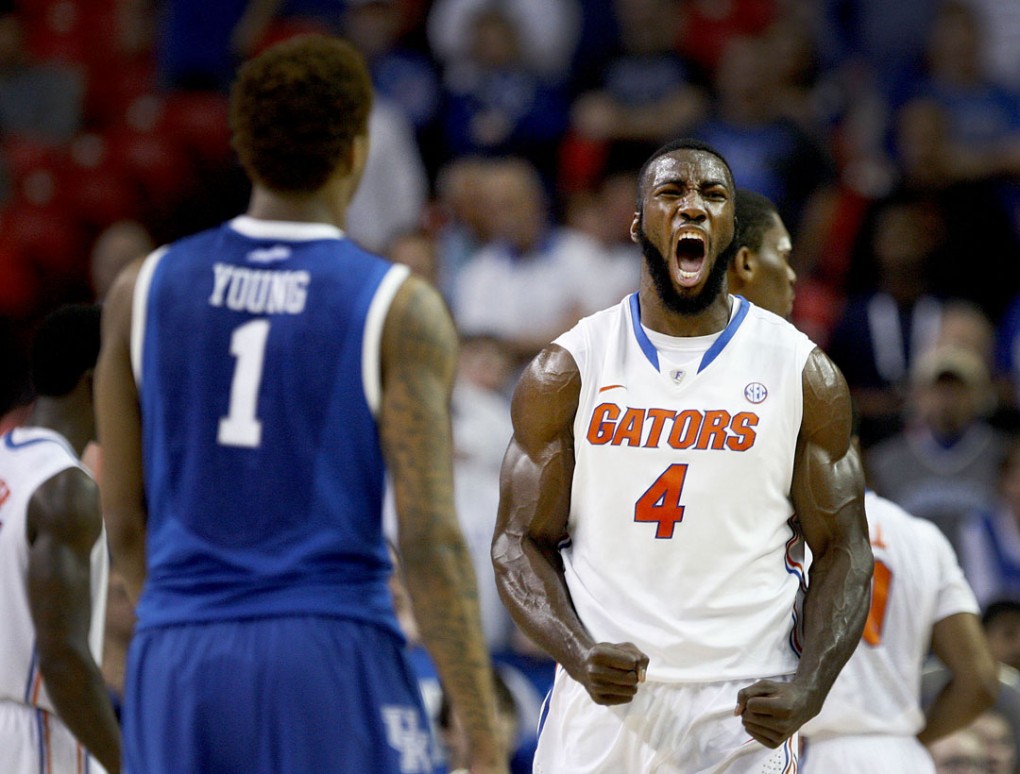 The Gators were presented the SEC Regular season champion trophy before their first game against Mizzou. And I agree with Billy Donovan, it's weird to present a team a championship trophy before a game, but whatever, it made for fun photos in the locker room after their first round win. Florida made fairly easy work of Missouri and Tennessee before matching up with Kentucky in the finals. It would be their third meeting of the season, and an instant classic.
The ending of the Finals produced one of my favorite photos of the year. Down by one, Kentucky had the ball with a few seconds left. A classic March Madness situation. Florida played amazing defense, and Kentucky didn't even get a shot off. Scottie Wilbekin tipped the ball away from the shooter as time expired. Patric Young and Will Yeguete erupted in cheer as Scottie was on the ground. And of course the post-game jube was fun too.
After losing in the Finals the year before to Marshall Henderson and Ole Miss (after being up by 10 in the second half) they were pretty darn excited to finally get the SEC Tournament Championship trophy… and cut down more nets of course.
Will Yeguete puts a lot of ice on his knees after the game, Billy Donovan's dad (or Grandpa depending on which Billy Donovan you're talking about) had a fun moment with Albert on the bench and Patric Young (No. 4) is fun to photograph when he gets excited.
Next up: NCAA Tournament 2nd and 3rd Rounds in Orlando. (We'll take a break from the net cutting for this go-round)
Comments
comments