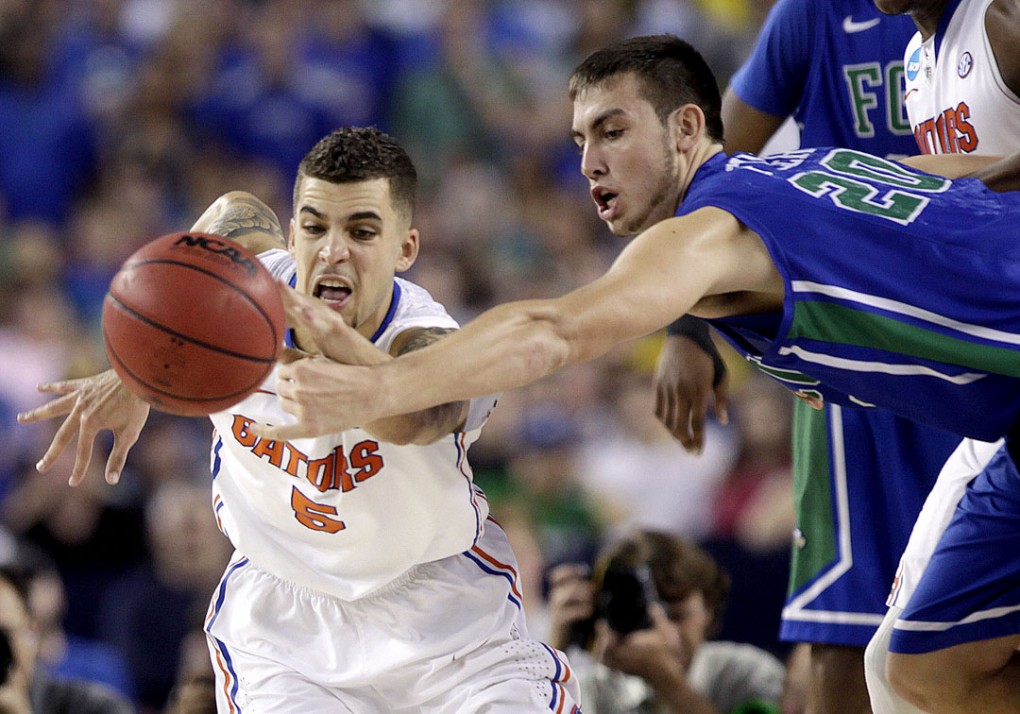 Friday might have been the most exciting and exhausting day of shooting basketball yet this season. What looked like a comfortable win for KU, turned into the first overtime game of the tournament and a thrilling win for Michigan. I decided to shoot that game (it was before the Florida game) to have some photos of the team Florida would play in the Elite Eight (if they won their game of course). I shot a few photos in the first half, and just hung out in the second row of photographs for the second half just in case something exciting happened. And boy did it. A Tre Burke three with about 5 seconds to go tied the game for Michigan and sent it into overtime. They'd go on to beat the Jayhawks and a lot of bummed KU fans left Cowboys Stadium. (and I made a nice cameo on the front of sportsillustrated.com)
And we're still a half hour away from the tip off of the game I'm actually here to cover. I'm pretty sure the NCAA doesn't care about newspaper deadlines, or they wouldn't schedule a game to start at 10pm EST. That made for a hectic halftime of sending as many photos as possible. The good news is that halftimes are longer during the tournament so I could get the paper enough photos for print. Then just shoot the game and post-game stuff at my pace.
As for the game, it turned out to be a pretty typical Florida win… with the exception of the first few minutes.  Everyone's favorite team in the tournament took an 11 point lead on Florida and the place was rocking. But then UF did what they do best, defense, and started forcing turnovers and making shots. It was pretty much over after Florida came back and took the lead at halftime.
As usual, the Florida locker room was pretty upbeat after the win. A former Gator and current NBA player, Joakim Noah, visited the locker room. He knows a thing or two about winning this tournament. The guys didn't play Uno this time, but they had a good time laughing at what I assume were tweets on their phones.
So I'll be shooting my third Elite Eight in as many years. Florida is the only team to make the Elite Eight the last three years, and I wonder if I'm the only photographer to shoot the Elite Eight the last three years. New Orleans, Phoenix and now Arlington… It's a good thing I really like basketball or I'd hate my job.
Comments
comments